Because seriously, who wants to deal with 500,000+ people on Saturday night?
Apparently I do because I have to get to Roundhouse theatre to watch Tender Napalm. Going to go early to avoid the hell that will be public transportation on Saturday. I've already bought my ticket so can't back out. Wish me luck!
For those of you who have options and rather not deal with Parklife's pingers and Riverfire's rowdy families, here's a compilation of things you could do this weekend.
Saturday:
8am – 3pm-ish: West End markets. Always good to grab fresh, local produce and start off the weekend enjoying the morning sun.
12pm – 4pm: Seamless Designer markets – as part of the Brisbane Fringe Festival. It's a sustainable and emerging fashion event at The Box featuring rad tunes, market finds and sustainable delights. Including Lust Not Want Not, a local Brisbane designer who makes many of my fabulous earrings 🙂 Where: The Box. 29 Vulture St. West End, Brisbane, Queensland, Australia 4101 (Also, typical Brisbane, I just realised that one of the bands playing is Glacier, featuring newly made Twitter friends).
As you go about this Saturday, please be aware of various traffic closures. Comprehensive details here! Plan ahead, please don't make me say "I told you so".
Sunday:
9am – 4pm: The Schoolbag World Record Attempt for world's largest display of chalk pavement art. Now, we all remember my fantastic artwork I did recently (if you read my blogs..) as part of my blind date.
This event is being held to raise awareness for education inequality, and the difference a small amount of school supplies can make.
Everyone has the right to an education. Where: the pavement surrounding The State Library, GoMA and The Edge, South Brisbane
3.30pm: Live Sparks, free music program at the Turbine Platform, Brisbane Powerhouse. Followed by,
6.30pm: Livewired Comedy, free comedy program. Two fantastic free programs to enjoy a Sunday afternoon. They have comfy couches.
Monday:
6.30pm: Bucci, headed by Shaun Malone, (on James St, Fortitude Valley) are having a Spring TwEATup. From $80pp, experience and help launch the new Spring menu whilst in the company of fellow foodies and delicious Italian food!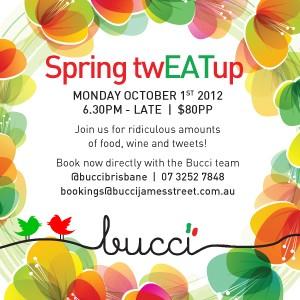 Failing that, enjoy the whole long weekend doing nothing at all! Visit an op shop and participate in Buy Nothing New month (blogged about
here
). Or go for a long drive somewhere and get out of town. Because how often do we get a chance to have a Monday off?
SEE YOU ABOUT!